First blind person who rock climbed in PR – a woman!
Rock Climbing has been a recreational sport in Puerto Rico for about 20 years when the first routes were established, however it wasn't until probably 5 years ago that it became available for almost anyone to book a rock climbing experience. It may be a coincidence, but as recent as March 8, 2020, the International Women's Day, the first blind person in rock climb in Puerto Rico was a woman!
Ashlin is her name. She didn't born blind. Its been 6 years since her life changed completely as a consequence of bacteria affecting her eyes and ultimately leaving her in a visual darkness.  When Ashlin got to Roca Norte Outdoor Climbing Gym, she was introduced to the sport, the gear, the techniques, the geology of the area and the panoramic setting by the staff. Immediately as she felt the rock in her hands, her nervous smiles and shaky hands were very present. She touched and felt the rock saying "Oh! It has many holes, and crips, and little caves". She was referring to the shapes of the hard limestone she was about to face. She started climbing a wall of 35 feet, using the tips of her feet, feeling the rock in her hands, changing holds everytime she felt unsecured, she took just one rest time, and very successful touched the chains! "Yaaay!!!! I did it!!!, she screamed as loud as she could. Emotions were coming out from everyone present, her parents, her daughter and the staff. Probably one of the most impressive things to note is that she did something she never saw before. Yes, think about it.
Roca Norte Outdoor Climbing Gym is a crag with all the services of a climbing gym, located in Vega Baja Puerto Rico. The support of beginner and experienced climbers visiting makes possible for us to offer guided climbing trips at no cost for socially and economically disadvantage people. For more information visit: www.rocanortepr.com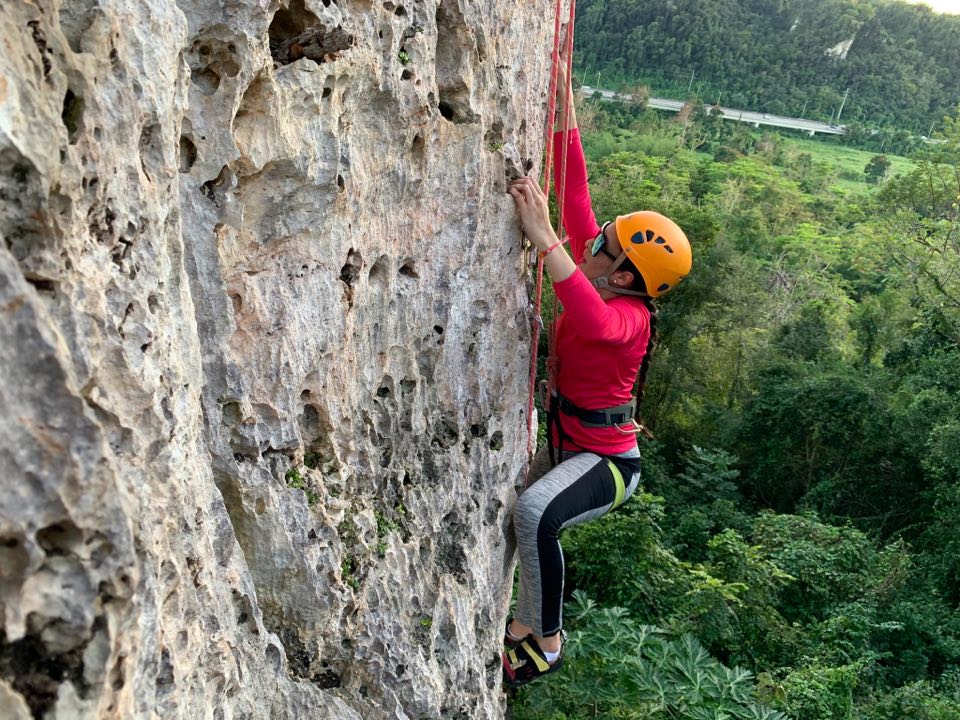 Author: Marianela Mercado Burgos, M.Sc. Geology                                           
Owner and Founder Roca Norte Outdoor Climbing Gym
Contacto:
Marianela Mercado / Kenneth Irizarry
info@rocanortepr.com
9392187887