2023 Summer Camp for kids
(Scroll down for English Translation)
Campamento de Verano para niños y niñas (Ofrecimiento desde el 2019)
⏲ Horario: 8:30am – 3:00pm
💰Costo: 185$ por niña (o) / por semana
Incluye:
Este campamento persigue un enfoque holístico, desde el punto de vista recreativo, educativo, en relación con el entorno, la responsabilidad, creatividad y nuestra conexión en el espacio y nuestros ancestros culturales. Entre las actividades que comprenden este enfoque, esta el aprendizaje y relación con el recurso roca a través de la escalada en roca, el estudio del equipo de escalada y cómo funciona. Incorporamos el entendimiento del paisaje rocoso como el mejor salón para aprender sobre la geología de Puerto Rico, los tipos de rocas, minerales y fósiles. Poder escalar mientras encuentran fósiles es una actividad integral llena de emociones y retos. Además, los participantes aprenden aspectos de siembra y cosecha de alimentos, enseñanza de Leave No Trace, y cómo incorporar arte y naturaleza como método para autocalmarse o entretenerse. En el taller de ancestros tienen la oportunidad única de visitar un área en el que se ha encontrado material arqueológico y podrán estar inmersos en un tema que los conecte con nuestro pasado y raíces culturales por medio de caminatas y confección de casabe. Adicional, aprenderán aspectos de seguridad así como identificación de fauna y flora existente del karso.
📒Programa general diario:
8:30am – llegada / estiramientos / meditación enfocada en naturaleza y ejercicios de calentamiento
10am – 12pm – Escalada en Roca
12pm – 1pm – Almuerzo que trajeron y descanso (microondas disponible)
1pm-3:pm – Actividades variadas y educativas

😀El deporte de la escalada es muy beneficioso y es además una Excelente oportunidad para trabajar las áreas de Coordinación, Balance, Destrezas de motor grueso, Planificación, Solución de problemas, Manejo de emociones, Disciplina, Atención y enfoque, Análisis, Canalización de energía, Exploración de intereses, Contacto Verde.
💳 ¿Qué Necesitas saber? y ¿Cómo Reservar?
1. Es un evento dirijido al público de 4 a 12 años.
2. Todo el equipo y materiales para las actividades será provisto.
3. Recibirás toda la información necesaria vía email como localización, vestimenta adecuada, recomendaciones para almuerzo, reglas y sugerencias una vez reserves.
4. Para reservar presione RESERVAR y escoja entre los meses de junio o julio el LUNES de la semana que interesa participar. Luego abajo escoja la opción que dice "SUMMER CAMP 2023" y llene las siguientes secciones con información hasta realizar el pago. Recibirá un correo electrónico automático con detalles.
5. Estamos localizados en Vega Baja aquí: https://g.page/RocaNorte?share
6. No es necesario tener experiencia previa para este campamento. Tampoco es requisito escalar si su niño/a no se siente hacerlo. Trabajamos con respeto la confianza que su hijo/a nos deposita para poder obtener su mayor potencial y lo que el/ella desee alcanzar. Es importante saber que en la escalada en roca es la persona quien decide la altura a la cual desea llegar para luego bajar.
7. No se discrimina por ningún aspecto de tipo: género, religión, raza o cualquier límite superficial. Sin embargo, si su niño/a tiene alguna discapacidad o condición déjenos saber antes de realizar esta reservación para evaluar que las condiciones del campamento sean adecuadas para su niño/a.
❓Dudas:
Marianela Mercado (Geóloga, Guía de Escalada en Roca)
939-218-7887
Puede ver muchas fotos en nuestra cuenta de Instagram: @roca.norte
👧👦 ESPACIOS LIMITADOS – Cupo Máximo: 12 por semana
Fotos y Videos: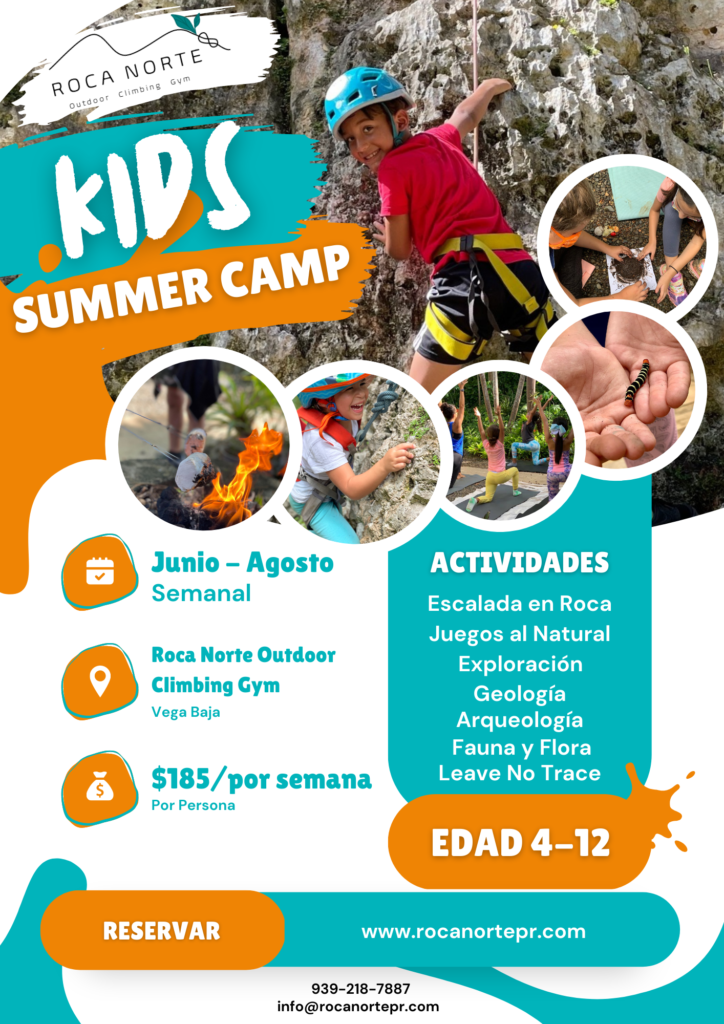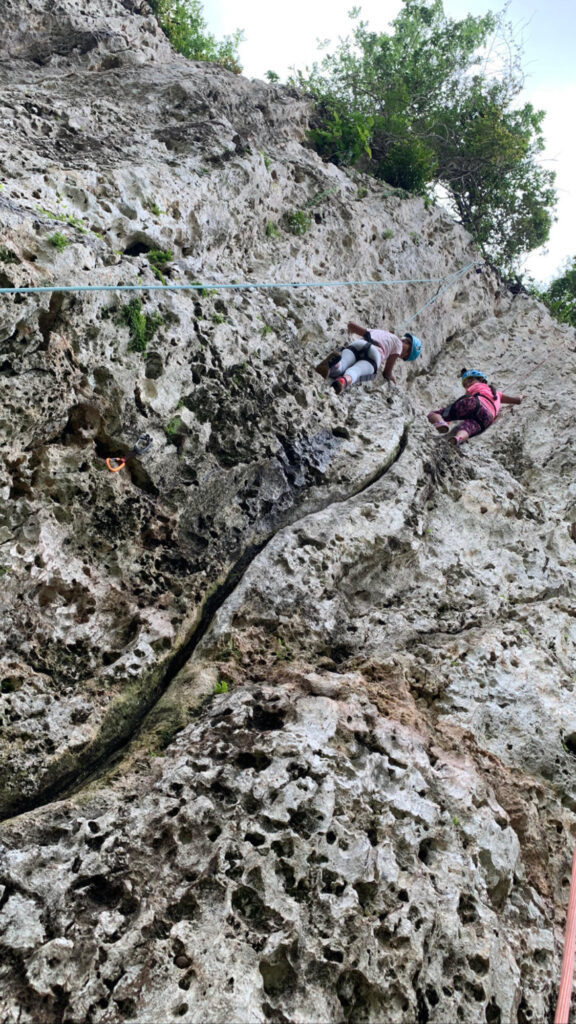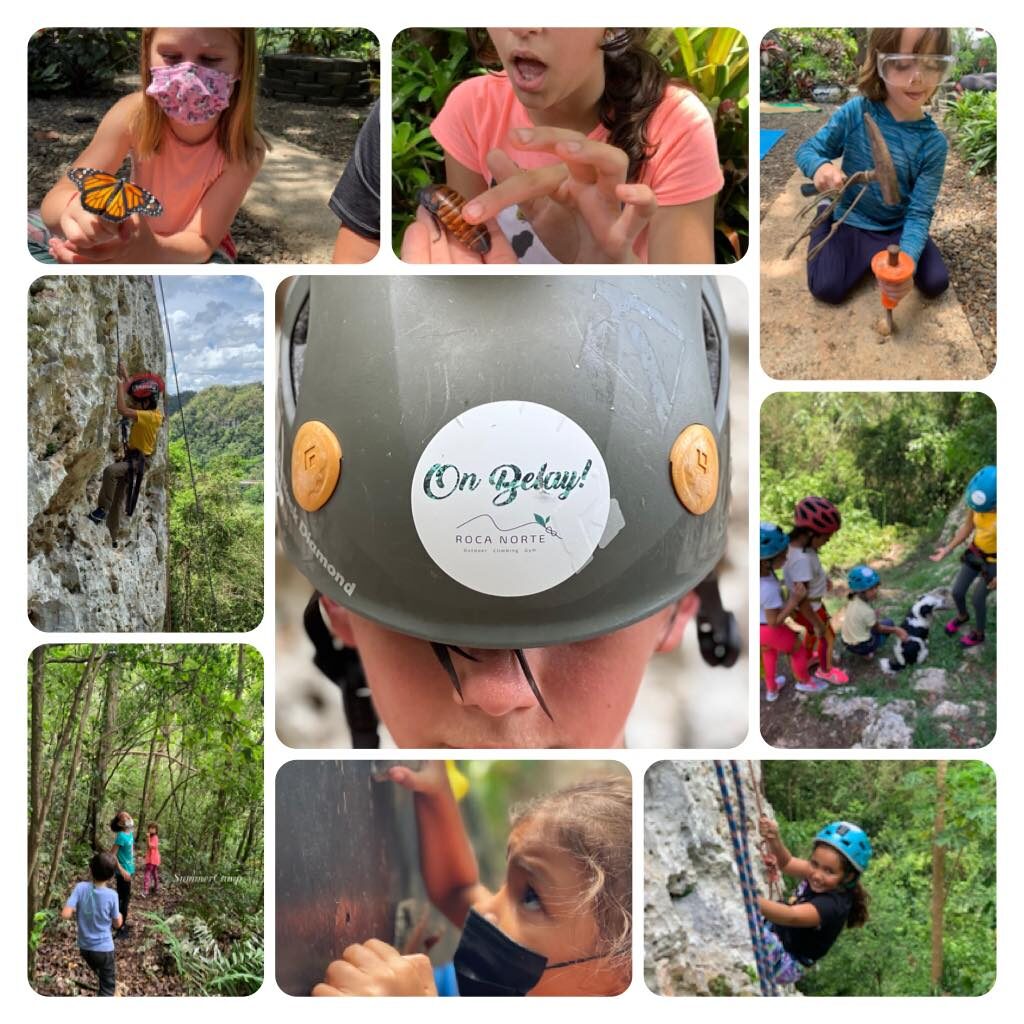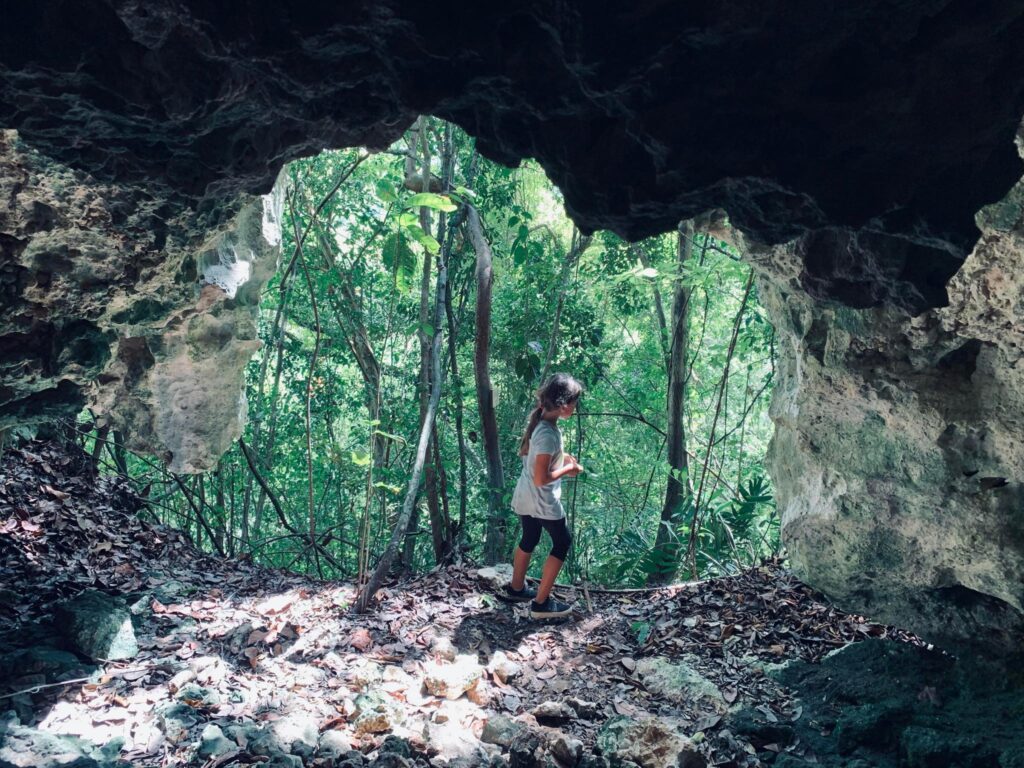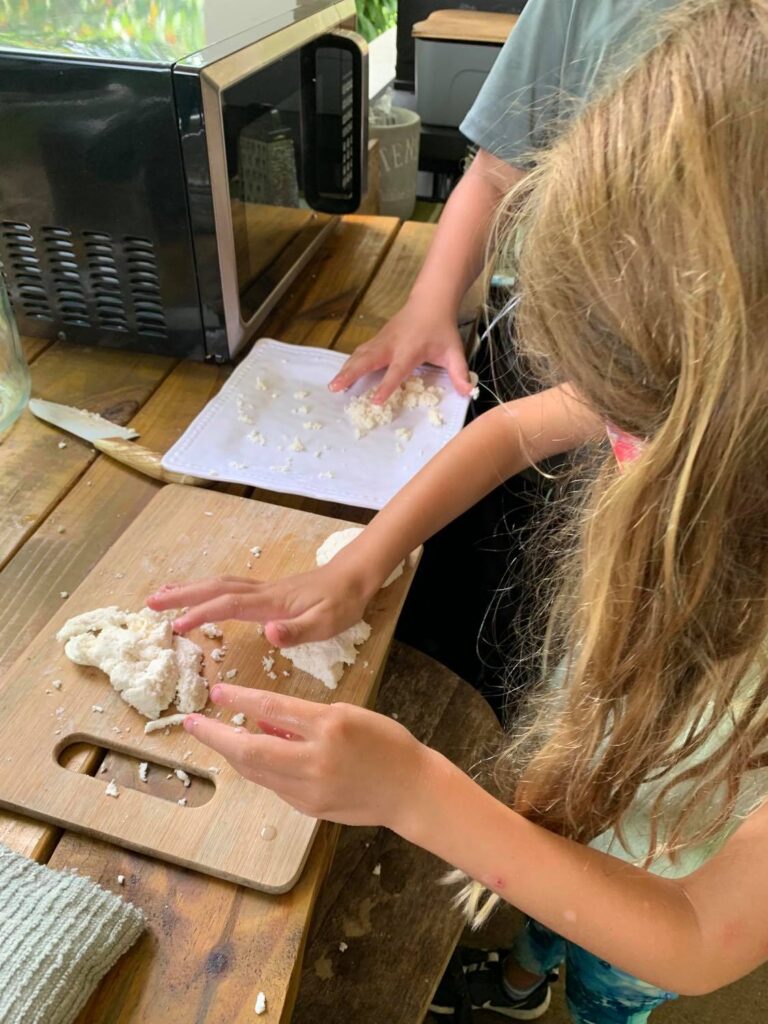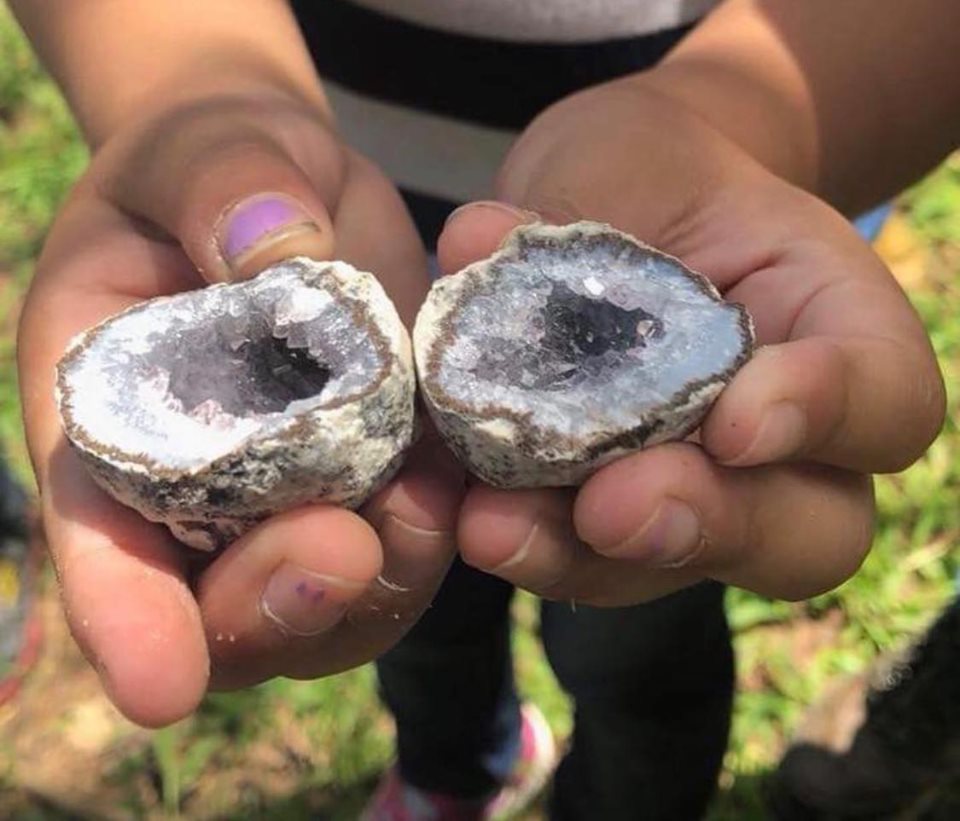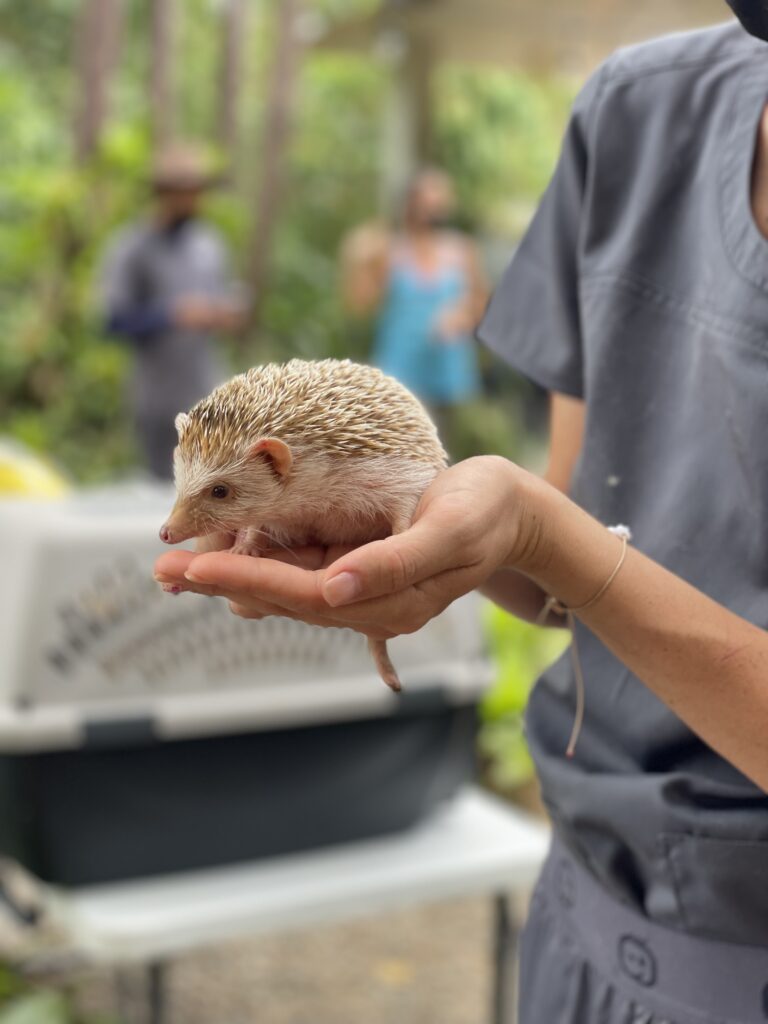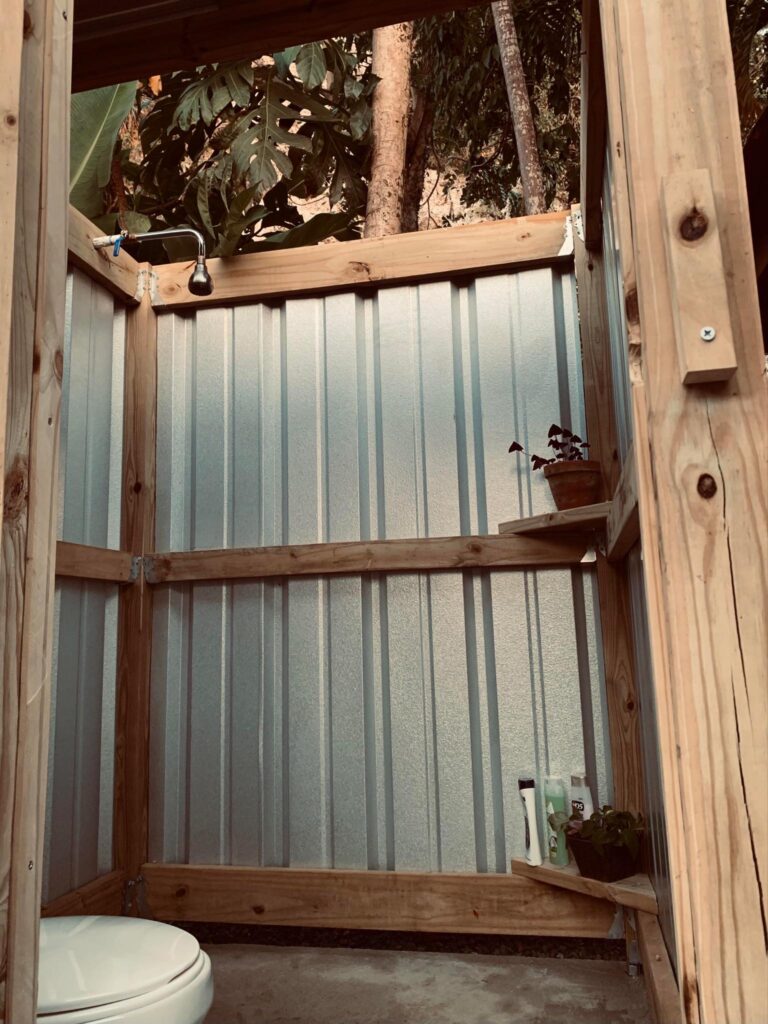 ——-ENGLISH TRANSLATION——
Kids Summer Camp (Since 2019)
⏲ Hours: 8:30am – 3:00pm
💰Cost: 185$ per child / per week
Includes:
Our summer camp pursues a holistic approach, from the recreational point of view, educational, in relation to the environment, responsibility, creativity and our connection in space and our ancestors. Among the activities that comprise this approach, is the learning and relationship with the rock as a resource through rock climbing, the study of climbing gear and how it works. We incorporate the understanding of the rocky landscape as the best room to learn about the Geology of Puerto Rico, the types of rocks, minerals and fossils. Being able to climb while finding fossils is an integral activity full of emotions and challenges. In addition, participants learn aspects harvesting food, Leave No Trace, and how to incorporate art and nature as a method of self-calming or entertaining. During the Ancestors Workshop they have the unique opportunity to visit an area where archaeological material has been found and they can be immersed in a theme that connects them with our past and cultural roots through walks and cassava bread making. Additionally, they will learn safety aspects in nature as well as identification of karstic fauna and flora.
📒General Daily Schedule:
8:30am – Arrival / Stretching techniques / Meditation for kids / Warm up exercises
10am – 12pm – Rock Climbing
12pm – 1pm – Lunch and rest (microwave available)
1pm-3:pm – Varied educational activities

😀The sport of rock climbing is very beneficial and is also an excellent opportunity to emphasize in the areas of Coordination, Balance, Gross Motor Skills, Planning, Problem Solving, Managing Emotions, Discipline, Attention and Focus, Analysis, Channeling Energy, Exploration of Interests, Nature Contact.
💳 ¿What do you need to know? ¿How to Book?
1. Ages for this summer camp: 4 to 12 years.
2. All gear and materials for the sum/m/er camp will be provided.
3. You will receive all necessary information to your email such as location, appropriate clothing, lunch recommendations, rules and suggestions once you book.
4. To book press BOOK NOW and choose between the months of June or July the MONDAY of the week you want to participate. Then below choose the option that says "SUMMER CAMP 2023" and fill the following sections with information until you make the payment. You will receive an automatic email with details.
5. See our location here: https://g.page/RocaNorte?share
6. No previous experience is required for this camp. In addition, there's no need to rock climb if your child does not feel like doing so. We work with respect the trust that your child places in us in order to obtain his/her greatest potential and what he/she wishes to achieve. It is important to know that in rock climbing it is the person who decides the height to which he wants to reach and then descend.
❓Doubts:
Marianela Mercado (Geologist, Rock Climbing Guide)
939-218-7887
Follow us in Instagram for more photos/videos: @roca.norte
👧👦 LIMITED CAPACITY: 12 kids per week